If I Were Management Of The Red Sox
The Red Sox have a lot of soul-searching in the upcoming season. The past two seasons they have been the favourite (or one of them), but at the VERY least favoured to win more than one postseason game in two years. Two postseason series where Sox fans relied more on optimism than skill. It's judgement time for Dombrowski; now that Farrell is gone, he will be the scapegoat for any failures that may come.
But if I were in a management role, manager and GM, here is what my plan would be.
I do not want to spend any money on anything, other than the bullpen. Look, this squad has the goods talent-wise. This is a good year to determine whether it was an issue with the manager, or if the players actually need to be reevaluated. Why spend more money on improving the team on paper, when this may be a non-talent issue? Look at this team on paper… are there any true holes? I will break it down.
Outfield:
Benintendi, JBJ, Mookie. Benintendi gives you a guy who handles the Monster so well, especially with him only having to deal with it under a year and half. Not to mention he was among our best bats this year. Mookie just won his second gold glove in a row, was the runner-up for AL MVP one year ago, and continues to drive in runs. JBJ, a stellar player, but due to his outfield-mates gets out shined. Look at his defense and look me in the eye and tell me you do not want him on the team. "But Unipec, he didn't even get nominated for a gold glove." Trust me, when I heard he was not nominated, my serotonin levels hit an all time low. Not only that, but he fits the 9 hole in the order SO well. A speedy guy that gets on base. Would I like for him to learn how to beat the shift? Absolutely, because with his spot in the order, teams should not feel the need to play a pull on him. That is definitely an area I would love to address if I were management of the Sox. With all of that being said, do not move any of these three guys. That would be a reactive, Steinbrenner move.
Infield:
Okay, so Mitchy did his job and we should let him walk. Nor should we look for a new first baseman. First off, shortstop; while Bogaerts seemed to have a down year, out of all of the qualified hitters on the team, he had the highest batting average (.273). I know, first pitch is a cockshot fastball down the middle that he takes, then swings at two ugly outside curveballs: strikeout. I've seen it a million times. But, a good shortstop is hard to come by in this league. You cannot just dish him without more of a sample size. Secondly (should have been first), Pedroia is our two bag until he retires. Guy's a fucking gamer. If you have any objections, I am glad to throw hands, in which I will likely lose (I'm a pseudo noodle).
Here's the twist. Ready for it? Nunie is the main 3B. Hanley and Devers for the most part split time at 1B/DH, while filling in at 3B when Nunie needs time off/plays middle infield. Hanley had his worst year the only year he didn't play the field most games. Also, he played the 1B well… like nearly gold glove worthy well. Lastly, I have strong confidence that he could play the 3B without any doubt. He was a SS most of his career. While I understand he has slowed down, adapted to the AL, and wants to focus on batting, he has proved he has the arm for it while proving he can play a corner infield position. I've been saying it since we acquired him, why aren't they trying him at three bag? Nothing has shown he would be a liability, especially with the woes we've had at the position. Now you're asking, why would he play 3B if we have Devers and Nunie? Well, Devers slipped under the radar as being the biggest fielding liability on the team since he started. I understand he couldn't even legally drink the last time he started, which is why I say we try him at 1B, while mixing in 3B and DH. Basically, moral of the story is: Nunie, Hanley, and Devers split time between the corners and DH, with Nunie having a majority stake in 3B.
With that being said, these five guys should be in the lineup predominantly, excluding injuries or days off.
And I swear to God, if they let go of Holt, I'll riot. Even with vertigo, the guy is one of the most valuable bench players in the MLB.
Catcher:
First of all, prayers for Daniel Flores and his family. Scouting reports basically said he was a one-of-a-kind defensive catcher, had the potential of being a top hitting catcher, and most importantly had a rare maturity for his age. Rest in peace brother.
Vasquez threw out 42% of runners in 2017. FORTY-TWO PERCENT. That's crazy. I understand that seems low, but in reality that is disgusting numbers. Again, I was surprised that he didn't get nominated for a gold glove, but he only played 99 games, and the committee doesn't like to factor non-every day guys. Also, he batted .290 on the season, and had the best BA on the team at home. He's not fucking leaving.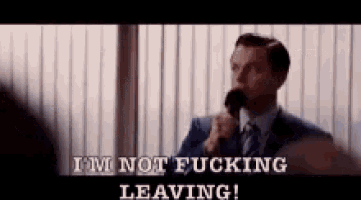 As for Sandy,
Keep him. Buuuuuut, if the right offer comes along… (refers to above gif).
Starting Pitching:
Can't wait for this Price to come back this season.
Sale, Price, Pomeranz. Porcello with optimism. Rodriguez with a grain of salt. Wright if he is healthy. Smith and Owens, sure.
By the way, our SPs have really REALLY boring last names.
Bullpen:
Kimbrel is the closer. Won AL reliever of the year. Done.
Woof.
It is all about all of the pieces falling into the right place. Farrell was a pitching specialty, which worries me about the current squad, but with an acquisition or two, plus 162 games, I am sure Cora will figure it out. Kelly and Barnes scare me. Considering that they throw 100, it seems they always throw it waste-high down the shitter. We have enough depth in middle relievers/excess starting pitchers that I feel comfortable in those spots. It is mainly the 7th and 8th inning guys, especially with Kimbrel struggling with pitching any more than 3 outs of the 9th. All I would request is picking up a solid possible 7th/8th guy and allowing the bullpen to work itself out. Then, by the trade deadline, this can be reassessed.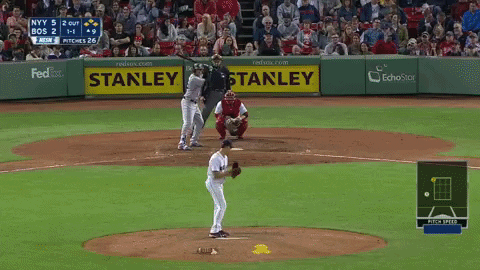 #InRecSpecsIClenchMyJawInHopesThatHeDoesntBlowItWithOneSwing
You already know what it is bitch.
Bang, Bang. (Just to keep you on your toes since they aren't 100% bare.)